STRAIGHT TALK FROM THE DOCTOR…
Real Answers on Adult ADHD Diagnosis and Treatment
RECORDING & TRANSCRIPT – Access it NOW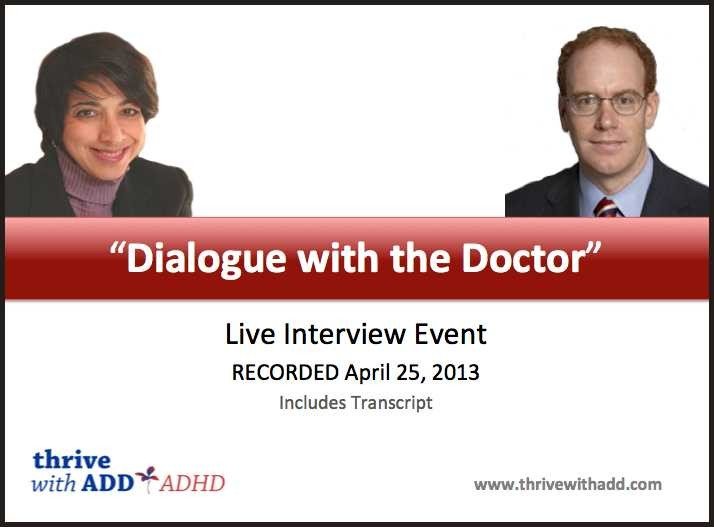 "Dialogue with the Doctor:  



ADHD Medication Demystified"
REPLAY of Live Event from April 25, 2013
Featuring Scott Shapiro, MD, ADHD Psychiatrist
Hi, it's Bonnie Mincu, with a special event from Thrive with ADD.
Now you can get answers to what you most want to know about Adult ADD / ADHD diagnosis and medical treatment.
On April 25, 2013, I interviewed Scott Shapiro, MD, an ADHD psychiatrist with a private practice in New York City.   On the program, I asked him to address the types of questions you posed in the March 2013 ADHD Diagnosis and Treatment Survey,  and he answered questions listeners asked on the live webinar.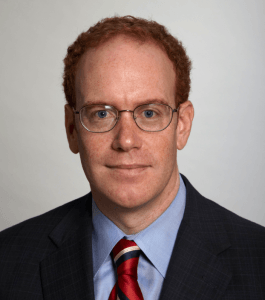 Scott Shapiro, MD
It was an honor to work with Dr. Shapiro on this program.   His psychology practice is unique in that it encompasses the areas of psychopharmacology, medical psychiatry and cognitive behavioral therapy.   He provides therapy, counseling and medication management for not only ADHD, but depression and anxiety as well, practicing the latest evidence-based treatments.
DR. SHAPIRO'S BACKGROUND
Dr. Shapiro's hospital residency and medical internship were completed at Harvard Medical School hospitals.   His background includes 8 years as Director of Psychiatry at New York's St. Vincent's Medical Center's Infectious Disease Center.  He is also the founder and director of MILESTONES NYC, a non-profit organization matching pro bono mental health providers to New Yorkers in need.
What we covered in the program
I asked Dr. Shapiro a broad range of your most burning questions about ADD / ADHD diagnosis and medical treatment, including:
The most effective procedure and best practices for correctly diagnosing Adult ADHD
How co-occurring conditions such as Depression, Anxiety and other disorders can confuse the diagnosis
How to treat ADHD without making other symptoms worse
The different types of ADHD medication, their pros and cons, and their possible side effects
How doctors determine what to prescribe to start
What can reduce the effectiveness of your medication without you realizing it, and what to do about it
Why ADHD is such a perfect breeding ground for  perfectionism
Plus lots more!
How "Dialogue with the Doctor" can save you
hundreds of $$ dollars,
and hours of research time and stress
As you listen to the session, you'll learn:
The right questions to ask a new doctor, so you don't end up with "Dr. Wrong" 
Why expensive diagnostic tests are usually unnecessary
Tips to try if your stimulant medication has lost its effectiveness
How hormonal changes affect your medication, for both men and women
With co-occuring conditions, which should be controlled

before

treating ADHD
How a knowledgeable doctor can tell whether you have ADD/ADHD, Depression, or both
You'll have a full 90 minutes with Dr. Shapiro! So whether you're contemplating medication for the first time, have some questions about your current treatment, or just want to find out a lot more about ADHD than you can learn in the usual 20-30 minute session with your doctor,  I know you'll find this a very valuable and enlightening hour and a half.
"Dialogue with the Doctor" Program Details
COST:  "Dialogue with the Doctor" is now  (Regular price was $47.)
DATE:   Hear it NOW!  (Live webinar was recorded Thursday, April 25, 2013)
TIME:  Program length is approximately 90 minutes long.  You can listen a little at a time, at your convenience.
PROGRAM INCLUDES:
Live Interview Replay:  Interview with Dr. Scott Shapiro based on the most pressing concerns and questions of Thrive with ADD readers.
Audience Q&A:  Dr. Shapiro answered selected questions of listeners during the event.
Download Recording:  If you want to hear it again, the recording is yours to download.

BONUS!  

Complete Transcript:  No need to take notes.  The entire interview is transcribed for you to access and read.

BONUS! 

 Dr. Shapiro's Special Tracking Tools he uses with his private clients.
HOW TO REGISTER:  Just click the registration button below to purchase the program.  Once you do, full access details will be sent to you by email.
Enjoy the program!
Warm regards,
Bonnie
Bonnie Mincu
Senior Certified ADHD Coach
Thrive with ADD
In the Blog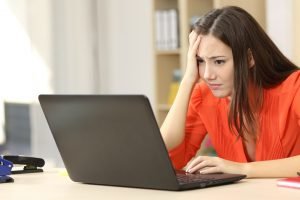 ADHD and Don't Know How to Plan?
ADD-friendly planning for the overwhelmed Does the word "planning" make you shudder, or feel instantly inadequate?  If so, you probably feel slammed with overwhelm pretty often. That makes sense, because if you have a number of projects to do – and those projects have multiple steps to perform – you'd need to be able Read post.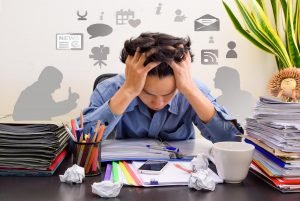 In ADHD Survey, Overwhelm Wins Again
What the results really say about ADHD roadblocks Every few years, I survey my adult ADD / ADHD readers to ask them what their biggest challenges are in getting started.  I find it very interesting to see how the results have changed over time. I ran my first survey in 2012.  At that time, the Read post.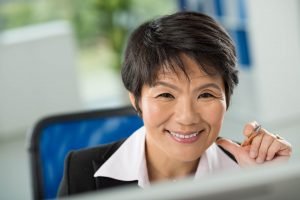 Shame and ADHD: How to Ask with Confidence
If you have to ask an intimidating person… My last post addressed the common shame-based assumption that many people with ADD / ADHD have:  that everyone else knows something they don't. If you avoid asking questions for fear of looking stupid, apply the strategy "Take It to Court" to quickly prove to yourself that Read post.