Procrastination solutions must be specific to the problem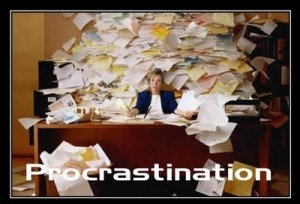 I talked to a prospective ADHD Coaching client the other day about the nature of her challenges with ADD / ADHD.  She said, not unsurprisingly, that one of her greatest problems was her tendency to procrastinate.
I asked her what seemed to be the main reasons she procrastinated.  "There's usually just one reason," she said.  "I DON'T FEEL LIKE IT!"
As we know with ADD or ADHD Adults, that "don't feel like it" state of mind comes up a lot!   But, to lump all issues that we have in getting started into that one bucket is to over-simplify the nature of the problem.  We need to identify more specifically what causes that feeling in order to develop solutions to help.
Dig deeper into the nature of your procrastination
Consider something important that you've been procrastinating on.   Of course, you haven't started because you don't feel like it.  But why?
Is it too boring?
Is it overwhelming?
Is the direction or purpose unclear?
Is it too hard to focus where you're trying to work?
Does the project or outcome make you anxious?
The first part of solving the problem is identifying the real nature of the problem.  So here's a SURVEY to help!  It's just 5 questions long, called the "Getting Started Blues" Survey
I'll share results next week, and give training on this topic this Spring.   Please help guide my training emphasis by sharing the nature of YOUR Getting Started Blues!
Click here to take the quick 5-question "Getting Started Blues" Survey.