Don't Let Unanswered Questions be a Productivity Killer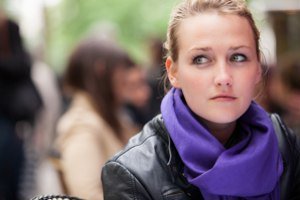 In both work and everyday life, you sometimes need to make decisions based on imperfect information.  Or take a course of action without knowing all of the facts, and with no guarantee of the outcome.
If you're the more impulsive type of ADD/ ADHD person who's not afraid of risk, this isn't a problem for you.
But if you lean more towards perfectionism, your ADD may have you hyper-focusing on the ambiguity, the questions and unknown factors, allowing them to keep you stuck.  You then escalate the question into a fear of the worst case that could happen if you don't have the answer. This leads to even more avoidance.
The worst thing you can do is turn a simple "I don't know" into an endless loop of "What if" rumination. Mental paralysis like this will affect your productivity.
That happened with my ADHD Coaching client Chloe. Ambiguity created anxiety for her whenever she needed to make a decision or write a report in her middle-management job.
 Here's how to turn ambiguity into an action step.
1. Write down each "unknown" that has you stuck
I asked Chloe to think of all the questions or points of ambiguity that she had regarding a recommendation report she had to write to senior management about a sensitive work situation. The primary one was:
 "I don't know if I'm evaluating the situation correctly."
Without feeling confident about this issue, Chloe felt great anxiety. She was afraid that whatever she wrote would cause her own judgment to be questioned.
2. Turn each unknown into a question you CAN answer, or an alternative to move forward
Use the powerful word "HOW" to start you off.   Even if your initial question is "I don't know how to…" you can ask yourself, "HOW can I find out?"
Chloe could start by turning her concern into a question of how to get an answer:
"HOW can I be sure I'm evaluating the situation correctly?"
 She could then brainstorm possible ways of getting the answer.
If nothing was feasible, Chloe could then ask herself:
"HOW can I move forward WITHOUT certainty of the answer (and not have my judgment questioned)?"
3. Turn your answers into actionable steps, where necessary
QUESTION: "How can I be sure I'm evaluating the situation correctly?"
ANSWER: Ask more people who were involved.
ACTION: Set up interviews with those people.
QUESTION: "How can I write my recommendation report without certainty?"
ANSWER: State your assumptions and rationale in the report, and include the concern about limited information.
ACTION: Start a rough draft of the report, and stop delaying!
 Google it!
For almost any "I don't know how to…" or "What do I do" question you have (that is not completely job-specific), you can find the answer on a search engine like Google.  And many of the entries that will come up are YouTube videos that show you what to do, step by step.  It's amazing how many videos have been created to show you exactly how to do – almost anything!
For fun, I tried to think of a couple of questions so far-fetched there would be no answer on it in Google:
"How to run PhotoShop on a 1989 Apple?"
"How many people in the world are named Emily?" 
And there actually were answers to those!
Take the Search Engine challenge:   Can you think of a question that you'll find no information about in an online search?
Please Share!