Monday, Aug. 6 is last day for Early Bird Pricing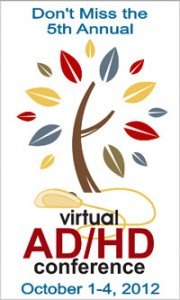 I was really proud to be invited to present for the 4th year in a row at the Virtual ADHD Conference.  This event was started up just five years ago, and has gained huge momentum each year.  It gets top speakers in the ADHD field, presenting on a wide variety of topics related to both childhood and adult ADD / ADHD.
Save $100 – Be a REALLY Early Bird!
Although the live event doesn't take place until October 1-4, the Early Bird price savings ends Monday, August 6.  So I urge you to check it out  and register TODAY if you want to SAVE $100.
I'll be creating a special presentation just for the Conference on the ADHD Shame – Avoidance Spiral.
Click here to check out the Conference details and speakers  – I hope to "see" you there in October!