You're not weird, just normal for ADHD
It's a known fact that procrastination is a big factor in people with ADD / ADHD.   So last week I put out a 2-question survey to see just how much we really do procrastinate.  I also wanted to see if there might be some truth to the idea that some of us sort of enjoy the rush of last-minute panic.
Here are the results from ADD readers:
The great majority — 93% — said they "often procrastinate."  A full 83% said they come up against deadlines (only 9% didn't have deadlines in their lives).   This would seem to indicate that most of these procrastinators are not feeling very stressed about the deadlines.  Why not?
Why we continue to procrastinate so much:
The answer is the way most of our brains are wired, based on the response to the survey question: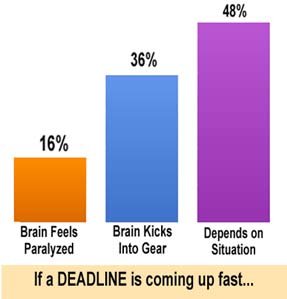 "Which response is MOST like you, when you are under the pressure of a deadline coming up fast?"
16% feel overwhelmed and paralyzed at a deadline, like a "deer in the headlights."
36% of us feel our brain kicking into gear once a deadline is approaching.
48%, almost half, say their response to a deadline depends on the situation.
The "fight" response of adrenaline shows up in these responders more than twice as often as the "flight" response.  That means that people with ADD / ADHD are more likely than not to feel confident that they will perform well as they get closer to the deadline.  Once they really feel the pressure of the deadline, their brain starts to focus.
Of course, this confidence is sometimes too optimistic, judging from the fact that procrastination was the most often cited challenge that ADD Adults said they have at work.  But these results explain why the procrastination habit is so persistent.  That doesn't mean the habit can't be broken; just that we need to find the right strategies that will work for our ADD brains.