ADHD "Work It" Session – Tuesday, Nov 20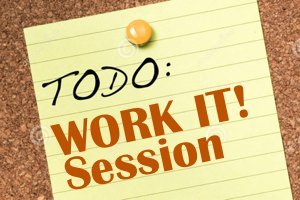 I'm kicking off my new 4-week Procrastination Transformation program this week, starting this Thursday night, Nov. 15.   It's always exciting to start a new "big event" program.  But this time, there's something extra special in it – a new BONUS program I've never done before.
On Tuesday, November 20, I'll be guiding members of the program through a live "WORK IT" Session as a bonus.
How to participate in the WORK-IT Session: 
On Tuesday, Nov. 20, via conference call, I'll guide you through strategies to plow through a lot of boring stuff you've been putting off and are

never

motivated to do.  Best of all, you'll actually get the stuff done in real time, during the work day!    No one around you will know you're participating in the session on the phone, since you'll be working through it.
Here's why a WORK-IT Session really

works

!
It's based on the ADHD "Body Double" concept –  Having a body double means you have another warm breathing person in the room with you while you're working on something.  That other person may be working on the same thing, or on doing something completely different. 
In either case, just having that other person present seems to help most ADD / ADHD Adults focus their attention on what they're doing.   We do better with that tiny little amount of stimulation that comes with having someone else there.
Body doubles don't work equally well for all tasks.  Usually body doubles are most useful for tasks that are boring or tedious, or activities that you have trouble getting yourself to do simply because you "don't feel like it."
For plain old procrastination, there's nothing like the stimulation and accountability of a group to motivate you to get moving on lots of basic, boring "piddly" stuff.    Especially with strategies I'll show you how to set up, that make it easy to get the adrenaline flowing.
Moving Beyond Procrastination
In the program Procrastination Transformation: The Secrets to Getting Started,  participants will be learning ALL the different reasons why they have trouble getting started on things.  And there are many possibilities, most of which are NOT really procrastination!
Click here to see the recent free webinar recording I gave on this topic, called "I Can't Get Myself to DO It!"
Procrastination will just be the first part of the program.
Following the WORK IT Session (when you'll master anti-procrastination techniques!) we'll move on to mental paralysis challenges like overwhelm, being blocked, perfectionism, emotional discomfort causing you to hold back from starting, and those tricky "executive functions" of the brain that cause of lot of us with ADD to come to a screeching halt.
It will be a great 4 weeks, full of insights for you, as well as structure and support in making the kind of real changes that can make a huge difference in your success.