The perfect tool for  ADD / ADHD Adults at work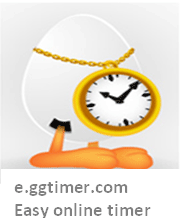 One of the most useful tools anyone with ADD /ADHD can have is a timer.  It can be set at intervals to keep your mind on task, to remind you of when to start or stop an activity, or to make sure you leave in time for a meeting.   I've often recommended the Invisible Clock, which allows you to set up to 12 times in advance.
But, there are several common roadblocks to the timer getting put to use.  Either people forget to buy it, or they don't get to reading the instructions on how to use it, or misplace it and forget about it.
So I was really excited to hear out about an online timer…  
…At this point, I know a lot of my readers will be groaning and thinking, "She never knew about online timers before??!"  And the other half will be thinking, "Great, I didn't know about that!"  We ADD / ADHD folks tend to be either very current with technology, or very NOT.
Benefits of an Online Timer  
An online timer probably doesn't do everything that Invisible Clock does, but it has several great advantages:
you don't have to learn how to set it – just type in the number of minutes
you can't lose it
it's available anywhere you have internet
you can reset it infinite times quickly by simply typing a number
it's free to use
To see the timer I learned about, just go to the website www.e.ggtimer.com.  Type in the number of minutes you want and hit "GO."  You can set the online timer to ring or beep.  It couldn't be simpler!
I typed "online timer" into Google and found alternatives with higher levels of sophistication.  Another easy-set timer is http://www.online-stopwatch.com/countdown-timer/.
Has using a timer helped you at work?   Please tell us how!