Don't try to run uphill when planning your workday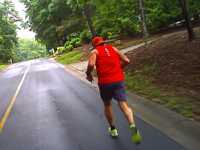 I've wanted to write a blog post all day.  Or to put it more accurately, I needed to get a blog post written… yet I had a hard time getting in the mood to write one.    It was far easier to deal with emails, web administration, and a myriad of trivial nuisance activities that grabbed by attention.
It wasn't until late in the afternoon that my brain settled down and I felt "ready" to write.
This is a pretty predictable pattern for me.  Call it my biological clock, my "flow" pattern, my rhythm; whatever it is, I know that writing or heavier thinking comes naturally for me starting late afternoon.   It's been the case for me all my life, even through all the years I held corporate jobs.
There is nothing particularly ADD / ADHD about this.  I think we all have our own unique rhythm.  Some of my clients are the opposite of me.  They say they have their best ideas or concentration in the morning, and by 4:00 their brains have left the building.
Whatever your own pattern tends to be, it is most critical that you are aware of it, so you can deliberately use that pattern for planning and working your day most effectively.   One of the most common mistakes you can make as an adult with  ADD / ADHD is to try to force yourself to go against your grain.  
I often talk to prospective coaching clients who berate themselves for not plunging into particular tasks first thing in the morning.   Unless it is a job requirement that a specific task be done at an exact time, there is no reason to say you "should" do something in the morning if your brain balks at it.    You will focus far more effectively moving with your flow than against it.
I'm finding that writing this post is flowing pretty smoothly for me now.  If I had tried to do this in the morning, it may have taken me twice as long.
Moral of the story: You don't get points in heaven for doing things the hard way!
Want to learn how to be at your very best?
Join me Thursday, January 16, as I kick off my online program,
"ADHD Productivity Engine!"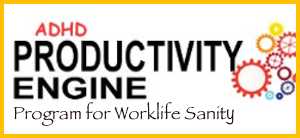 Over 12 weeks, you will learn in-depth strategies for getting started, time management, writing quickly and effectively, organizing, planning, decision-making, following through.
There are special sessions for practice, lots of live Question/Answer time, and support for practicing the strategies in real-life – no extra time required!
–  Live sessions are every Thursday at 9:00 pm Eastern.
–  All sessions are recorded for replay.
Click here to read details and register.
Are you an A.M. person or a P.M. person?   Please Comment and Share!