A study on teens says it does!
The weather this March has been so weirdly warm and beautiful in the northeast that it makes me want to just get in the car and drive! Music blaring, windows open, top down, my inner teenager wants to emerge.  Perhaps it was the good driving weather this week that prompted the March 27 New York Times article, "Learning to Drive with A.D.H.D."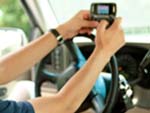 The article cited sobering statistics about ADD / ADHD and driving.  According to a 2007 study conducted by Dr. Russell Barkley and Daniel Cox, "young drivers with A.D.H.D. are two to four times as likely as those without the condition to have an accident – meaning that they are at a higher risk of wrecking the car than an adult who is legally drunk."
Why are ADD teens at higher risk?  The factors involved are the usual bugaboos of ADHD:  poor attention, impulsivity, multi-tasking,  increased risk-taking, coupled with the increased difficulties some ADD teenagers may have in learning to drive in the first place.  While this particular article focuses on teenagers, we ADD / ADHD Adults know that we never really outgrow our symptoms.  With maturity, hopefully, comes increased self-awareness.  As adults, we should be more cognizant that cell phones and texting increases our distraction and avoid using the devices while driving.
Individuals with ADD differ dramatically
As someone who has been driving for 40 years without ever getting a ticket, I know how much individuals with ADD can differ from each other.  I'm also painfully aware of my own inability to focus on the road when I'm on a cell phone.  I had one of the first "car phones" back in the 1980's, but quickly found that I could NOT actually talk on it while driving! My friends know that I'm notorious for missing where I'm supposed to turn if I'm chatting with someone in  the car with me.  So my ADD is obviously operating here — perhaps the difference between me and an impulsive teenager is that I'm consciously aware of my limitations and behave accordingly.
Dr. Barkley advocates that ADD medication be mandatory for ADD / ADHD teenagers who drive. Yet his position doesn't take into account our ability to hyper-focus as well as to get distracted.  I would think that some of us may hyper-focus on driving when we're behind the wheel, and actually be better drivers than the average.
Another thing to consider in this study is that the teens who were included as having Attention Deficit Disorder were those who had been diagnosed.  But the majority of those with ADD / ADHD are NOT aware that they have the condition, especially as mature adults. So there may be many out there who are not actually problem drivers, but weren't counted in the statistic.
Increased awareness of the risks for ADD drivers can have a downside if we don't account for individual differences.  Consider some possible ramifications of taking ADD / ADHD into account when it comes to driving. It raises some important questions:
Do we want ADD / ADHD teenagers to be identified as such when they get their license?
Should medication for driving teens be mandatory, as Dr. Barkley suggests?
Could being identified as ADD / ADHD raise our insurance rates, even if we've never had an accident?
Is anyone else out there just a little bit nervous about society acting on this study?