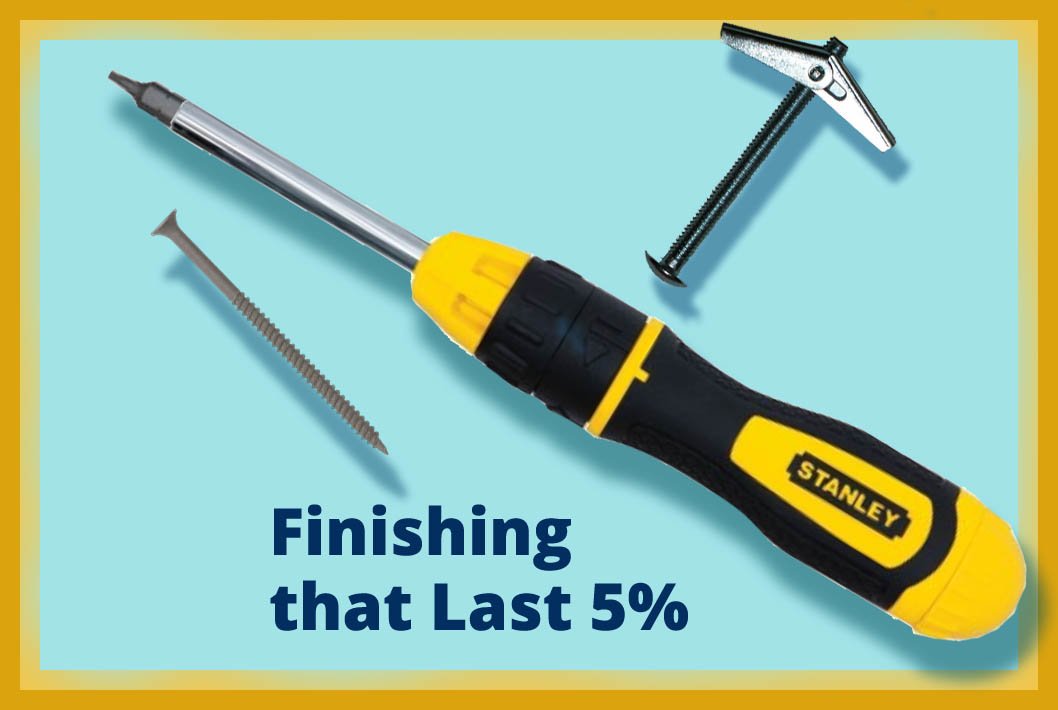 Why do we finish 95% of a project, and stop?
I've heard from many people with ADD / ADHD that they finish 80 to 95% of a project, and then inexplicably stop without finishing it.   I never had an answer as to why this was so, but I recently experienced it myself.   And as I triumphantly completed the last 5% (in this case, hammering in a nail), I tried to analyze my own behavior to see if there was a lesson here.
My project stemmed from frustration with my messy utility closet. There were too many long-handled mops and brooms on the floor, and insufficient room on the shelves to organize the mess of cleaning products that fell out every time I tried to find anything in there.
I visualized a system of wire grids hung on the walls of the closet, with hooks and wire baskets hanging from the grids.   On a Sunday, I researched online, found what I wanted at the Container Store website, ordered the products, and went to pick them up that afternoon.
DERAILMENT #1:  Entering the Container Store, a dangerous place for any impulse buyer. I left a bit poorer, loading my car with organization items that made me feel satisfied without having actually organized anything. By the time I got home, I was wiped out and no longer in the mood to install the grid. So I shoved the big bag in the closet.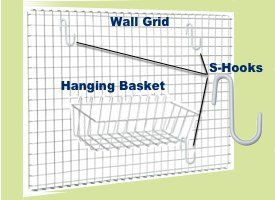 A week later, stuffed with Thanksgiving leftovers and determined to accomplish something productive, I decided to put up two grids. This would involve screwing eight little brackets into the closet walls. I pulled out the step-ladder, the drill, the screwdriver (electric and non-electric), the stud-finder, the ruler, a pencil for marking the spot, and got to work.   It was really a very simple system to put up, but it took me about an hour since I'm not very handy.
DERAILMENT#2:  Putting down one item to pick up another, I would lose the first.  This happened several times. (That's the way my ADD works – I don't see what's in front of me.)   This energy-draining frustration kept me from working efficiently.
Finally, the system was installed, and I organized my cleaning supplies, light bulbs and miscellaneous sundry into the wire baskets.   I just needed to put one nail in the wall to keep the grid from skewing to the side.  This was the LAST 5%!
DERAILMENT # 3:  I didn't feel like getting out the hammer and nail. I told myself I'd do it later, and then forgot about it.  It was the last 5%, and I left it unfinished!
Several days later, I hammered in the final nail, and it was done.    But I realize it could just as easily been a year later before I hammered in that nail.
 Lessons Learned for a DIY project:
Don't imagine I will start a project right after getting home from a shopping spree.
When working with tools, keep a small box in front of me to hold the tools, and stay mindful to only put them in the box.
Take out everything I might need before starting.
Thinking through what happened has taught me how to strategize against that tendency to leave the last 5% unfinished. I'm not immune!
What have you almost finished without completing the final bit?

Please SHARE and COMMENT below: