When You Don't Know Who to Ask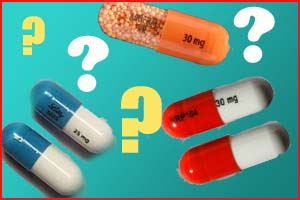 In my ADHD coaching practice, I don't require my clients to be on medication in order to work with me. But when the word "focus" comes up repeatedly as a client's reason for frustration, I do suggest that they look into treatment. At that point, people are more open to considering medication as an option. But they usually don't know where to turn for help.
Responses often fall into one of these categories:
(1) "I'm concerned about taking drugs and don't know how to find the right doctor."  or (2)  "I tried medication and didn't like how I felt, so I gave up."
Unfortunately, some people give up on medication prematurely, perhaps because their doctor wasn't familiar enough with Adult ADHD treatment options, or because they didn't know how to communicate with their doctor about their symptoms.
There are a number of reasons why you might not "feel right" when you are first prescribed an ADHD medication.
Why your intial prescription for ADHD may need adjusting:
The dose may be too high for you.
The brand may not be the best one for your metabolism.
You may be waiting too long between doses and are feeling a rebound effect.
Stimulant medication may bring out symptoms of a co-occurring condition, requiring an adjustment in your medication mix.
You may feel side effects with a non-stimulant, and a stimulant would work better for you.
You may need to change the time of day you take your medication.
Most of these problems can be easily remedied when you discuss them with a doctor who specializes in treating Adult ADD / ADHD.  But what if you don't have the right doctor…. who do you ask?

Psychiatrist Answers Your Questions on ADHD Diagnosis & Treatment
Last year,  I put out a survey to my readers to find out about your experience and concerns regarding diagnosis and medical treatment of ADHD.
Then, in a special live program, "Dialogue with the Doctor," I interviewed Scott Shapiro, MD, a Harvard-educated psychiatrist in New York City who works extensively with ADD / ADHD Adults. I asked him the most burning questions that came out of the survey of my readers.
This week, we are offering the webinar recording and transcript of that program on sale, for $19.

Interview webinar – ADHD Psychiatrist answers readers' questions
SALE PRICE: $19 (through June 22)
In addition to his impressive credentials, Dr. Shapiro is highly experienced in working with Adult ADD-ADHD as well as its commonly accompanying conditions such as Depression and Anxiety Disorder. He treats a cross section of professional clientele including many in most high-pressure positions where productivity is essential.
Click here to check out the program, "Dialogue with the Doctor."  What you'll learn about diagnosis and medical treatment of ADHD may surprise you!

Have you found that your initial prescription needed adjusting to work well for you?
PLEASE COMMENT and SHARE!