ADHD and Chaos:  Is Disorder Inevitable?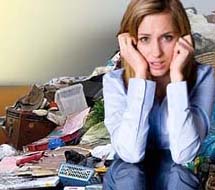 Some things never change.  When I started my Thrive with ADD program 12 years ago, Clutter was one of the Top 3 problems plaguing ADD / ADHD Adults.  And based on the results of my survey last week, asking what you most wanted to learn, Clutter-Clearing is still up there.
Despite the many books and programs to tame clutter, it remains an entrenched problem for us.
Why are folks with ADD/ADHD tendencies such awesome clutter-producing machines?
How we naturally
create

clutter:

A number of our traits come together to create a perfect storm, making it more challenging for most of us to maintain an orderly environment.
Fear of forgetting or losing things – We want to keep everything out, available and within our sight.
Impatience – We don't want to stop what we're doing to put things away.  We're also impatient with routine tasks, such as filing or cleaning up.
Distraction – We pick something up and may carry it into another room without being aware that we have it, or where we put it down.
Visual oblivion – Although some people with ADD / ADHD are distracted by everything they see, others (like me!) are oblivious.  We can literally not register what is right in front of our eyes.  So clutter piles up without making an impact on our consciousness.
Why it's so hard for us to

clear

clutter:

At some point, we have to bite the bullet and attempt to make some order out of chaos we have created in our home or workspace.   What is it that makes sorting out our own stuff so dread-inducing and difficult?
 All-or-nothing thinking – Rather than planning to take the project in small bites, we think we'll tackle the whole thing in an hours-long marathon.  Most of us don't have the patience or stamina, and end up abandoning the effort mid-way through.
We need to focus on small, discreet areas and mentally treat the area we're working on as a completed step.
Overwhelm – If you have trouble breaking down a large project, you plunge in without a system.  You could spend hours attempting to randomly create order across the house, and hardly make a dent.
We need to see a visible difference right away as we complete each area.
Unfocused drifting – Every time you leave one area or room to put an item away, you're in danger of putting that item down and picking up another that catches your eye.  Many times people lose focus and forget to return to the original spot they were working on.  You can't create order with the same unfocused approach that created the chaos!
We need a strategy that keeps us "planted" in one spot — no drifting allowed.
Difficulty letting go of stuff – Most of us want to hold on to things with the idea of "I might need it someday."  When you try to purge items, you dwell on each piece of paper or  item, unable to make a decision to get rid of it.  No wonder attempts at clutter-clearing take so long.
We need a quick method of sorting that eliminates the need to make a decision on each item.
Because of our ADD / ADHD tendencies, some of the conventional rules of organizing and clutter-clearing just don't work for us.  When we try to follow them, it can become paralyzing.
THROW OUT THE RULE BOOK and clear clutter with me!
Join me this Thursday evening, 9:00 PM Eastern time, as we clear your clutter together.  I'll walk you step-by-step through my fool-proof ADD-friendly strategy for clearing any kind of clutter painlessly.  And you'll use the strategy right then to get through a pile of clutter while I serve as your "body double" on the call.
In the past, only members of my Procrastination Transformation and Productivity Engine programs had access to WORK IT sessions like this.   The "Clear Clutter WORK IT" has proven so popular that I'm offering it now to you.   And the price for August only is ridiculous, only $19.
The whole session will be recorded, so you can listen again at your convenience.
It comes with complete notes, audio file and slides to download.
CLICK HERE to check it out now and join me this Thursday, Aug. 8 (or afterwards access the recording!)
August is training month at Thrive with ADD, with new training every week.  Make sure you're signed up to receive announcements and blog posts!  (If you're not on my email list, submit your email address on any Thrive with ADD page.)
What was your worst experience attempting to clear clutter? Please COMMENT and SHARE below!