The pros and cons of automatic sorting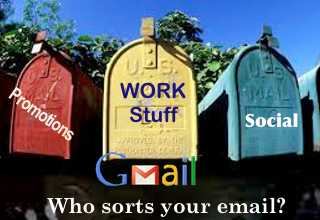 This week I sent out an email about a Gmail development that could affect you.  I got a surprising number of replies, so it seemed like email sorting would be a good subject for discussion.
Gmail has been rolling out a new platform that will automatically sort your incoming emails and assign them to particular categories.
These categories include:
PRIMARY – your main inbox where your uncategorized mail will enter, unless Gmail "decides" it belongs somewhere else
SOCIAL – where notifications from your social media will go
PROMOTIONS – anything sent out in a mass mailing, such as newsletters, announcements and blog posts
OK, I admit I'm biased.  I have nothing against programs that filter and sort your email, when YOU have decided how to sort them.   But in this case, Gmail is making that decision for you.
Let's discuss the pros and cons of automatic email sorting, especially for us with ADD / ADHD.
CONS – Why Automatic Email Sorting could be a Problem for ADD / ADHD
Here's why automatic segregation could pose a particular problem for many of us.
If we can't see it, we forget about it.  As ADD / ADHD Adults, we tend to operate in the mode of "out of sight, out of mind."   So, unless we develop a strong ritual routine or habit of checking a particular email folder on a regular basis, anything sent into that folder may not be seen for a long time!
We tend to wait until the last minute to take action.  I'm sure that there's nothing really urgent about seeing an ADD / ADHD strategy blog post today versus several days from now.  However, you may be upset at missing certain kinds of time-driven announcements.
Free training videos that are posted for a limited time
Live webinars that are coming up within 24 hours
Early Bird sales savings on classes and programs
Sale of the Week that I'll run in August (haven't announced that one yet, but it's coming!)
People often need to see these types of announcements several times before they act on them.  Imagine if you don't even see it the first time, and by the time you check the Promotions Folder, the event or sale is already over!
We are impatient about taking extra steps.  I've found that I personally need everything coming into ONE mailbox, because unless it comes into my main mailbox, I don't remember to look for it.   I usually don't feel like going to another box to check for things.
Cyber-robots make mistakes!  Sometimes, by the time I go to my JUNK MAIL folder, I find that Outlook has inexplicably classified an email from a client or prospect as "junk," even though I've corresponded with that person in the past. Cyberspace wisdom is not infallible!  I can't trust Google to accurately identify what is or is not "Promotion."
PROS – Why Automatic Sorting can be a Useful Tool for ADD / ADHD

Too much email is overwhelming!   Many of us are susceptible to getting overwhelmed when faced with visual clutter.   It's already hard enough to sort through an inbox with hundreds of messages, to find the few that require immediate action.  When non-critical emails are sorted out automatically, you have less to look at and decide about.
Here are a couple of ways you can flag emails to stand out in your Gmail Inbox:
Label particular emails so they'll visually pop out.   Whether in your Primary Inbox or Promotions Folder, you could create a filter that gives particular emails a certain label.  If you wanted to label all of my emails as "ADHD," you could filter those.  There is a good video explaining how to do it in Gmail.
Sorting cuts down on distraction.   Let's face it, it is very distracting to see a notification of every Facebook post and tweet when you're trying to get work done.  Yet most of us are loathe to banish these little stimulating hits.   Gmail has made the decision for you, so you can wait until it's the right time (or you need a break) to go into your Social or Promotions folders and read the extra-curricular messages.
You CAN control how you categorize emails.   Although Gmail is moving all Gmail users by default to their new tab system, you have the power to over-ride the sorting… or use it to your advantage.
How to override the new Gmail categories:
In Gmail, click on the PROMOTIONS tab.   (If you don't see it across from the Compose button, refresh the page.)
Click and drag an email from Thrive with ADD or  bonnie@bonniemincu.com to the PRIMARY tab. 
 (You just need to drag ONE.)
You will be asked if you want to "Do this for all future messages." Click "YES."
If you read Gmail on your phone, you'll want to perform this configuration on your Gmail for Android and Gmail for iPhone apps.   Otherwise, you will have to remember to click the Promotions Tab to see any of my emails.
What do YOU think about the new automatic Gmail sorting?  What email solutions have worked best for you?  Whether or not you're a Gmail user, please COMMENT and SHARE below.