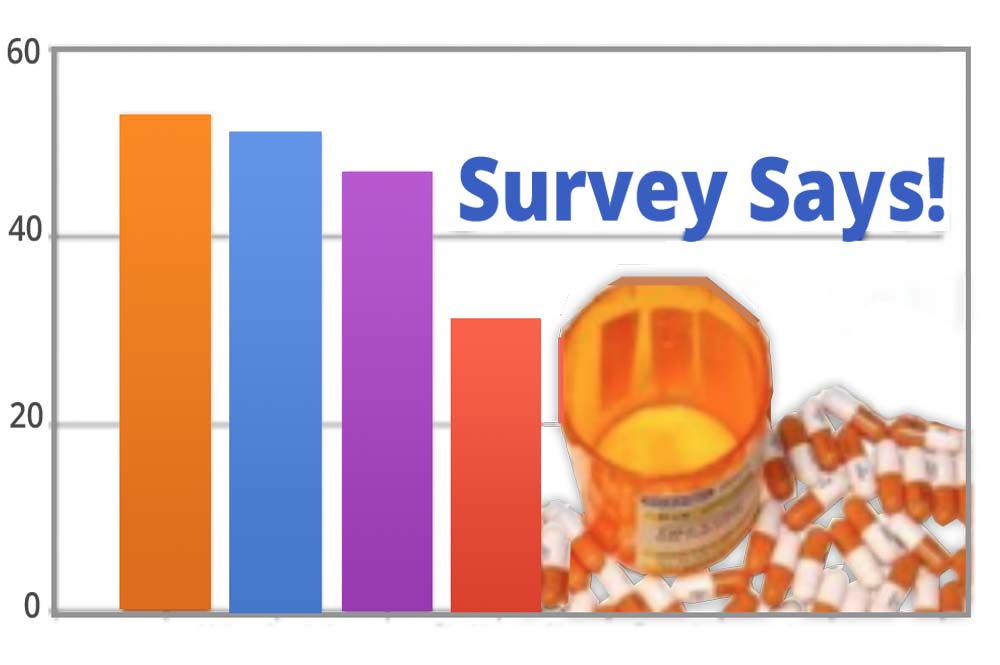 Results are in!
Last month, I put out a survey to my readers about Adult ADD / ADHD diagnosis and treatment. Wow! That survey got one of the biggest responses I've had (second only to "Work Challenges!")
I wanted to know the facts about what people were experiencing in diagnosis and treatment of Adult ADD.  But I also was curious about the feelings involved. How did you feel when you were diagnosed? What impact has treatment had on your life? How much can you open up about your ADD to others?
I've summarized the survey results, and got a few surprises!
Adult ADD / ADHD Diagnosis & Treatment Survey – Results Summary
Diagnosis:
Often people wonder about the seemingly "informal" way their doctors diagnosed their ADD.  Most commonly, doctors have you answer particular questions to determine if you fit an Adult ADD / ADHD profile.  The diagnostic process for almost a third of the people had them filling out a questionnaire, and 29% went through a full battery of cognitive tests. Another 19% simply answered questions the doctor asked in the office. Only 2% had a brain or spec scan.
Among the survey responders, 37% were diagnosed for ADD / ADHD in their 40's, with 23% not diagnosed until their 50's. It's quite common to only start suspecting ADD / ADHD after your children or grandchildren are diagnosed.
I really wanted to know how people felt about their ADD / ADHD diagnosis.  More than half felt validated or relieved. A third also felt sad about the years they lost.
Most (70%) were comfortable with others knowing about their ADD / ADHD.   However, 21% kept it hidden from all except closest friends and family, or didn't tell anyone.
Only 10% said they felt "ashamed to have a disability" when they were diagnosed. But there were significant differences between those who were ashamed, and the respondents as a whole. Compared to the entire group, the "Ashamed" group was:
Far more likely to feel other negative emotions about the diagnosis; those who were ashamed were 75% more likely to also feel resentful and/or sad.
Three times more likely to be uncomfortable communicating with their doctor.
56% more likely to avoid telling anyone about their condition.
Sadly this means that those who felt shame were more likely to feel isolated and alone, unable to talk about their struggles – which would tend to make the shame feel even worse.

Co-Occurring Conditions:
Depression was by far the most commonly diagnosed co-occurring condition, followed by Anxiety Disorder. But only about two-thirds of those diagnosed were receiving treatment. Based on comments, many believed they were misdiagnosed with other conditions that were actually ADD / ADHD.
Sleep Apnea was diagnosed for 13% of people with ADD, but only 7% were being treated for that. This is significant because lack of good sleep makes anyone's ADD symptoms worse. And many people with sleep apnea don't realize they have it, so there are likely many more people out there who should be getting help.  (If you feel chronically sleepy during the day, check it out!)
Medication:
More than half the respondents take medication for ADD every day, and most of them take stimulants. About 70% reported positive results, with the highest number stating: "It helps a lot in what I have to do; I can focus whenever I need to."
Most people feel fine about taking medication for their ADD / ADHD.  But more than a third take it begrudgingly, or feel like it's a "crutch."
I was surprised to find that almost a third of those who had been prescribed medication are no longer taking it. That number tied in with how people felt about their medication experience. Only 11% couldn't tell that the medication make a difference. Others commented on their difficulty finding an appropriate doctor to prescribe, their lack of insurance coverage, or their feeling that the meds didn't work as well as they used to.
Experience with Doctors:
The good news: 69% were comfortable talking with their doctor about their treatment.
The bad news: 12% felt their doctor didn't really know much about Adult ADHD, and 5% believed the doctor wanted to just write their prescription and be done as quickly as possible.
The REALLY bad news: A full 20% had their belief about being ADD/ ADHD dismissed by a psychologist or psychiatrist! And many stated they were given quite ignorant reasons for the dismissal, based on completely erroneous assumptions and beliefs about Adult ADD / ADHD on the part of the professional.
There were also a number of incorrect "Depression" diagnoses that were actually ADD, but the doctor refused to believe it.  This is scary stuff!

Questions for an ADHD Psychiatrist:
People submitted an enormous variety of questions! Click here to read them, and to see the full Survey Results.
And since you asked such great questions….  SAVE the DATE:  Thursday, April 25, at 9:00 PM Eastern, to participate in a "Dialogue with the Doctor!" I'll be interviewing a New York ADHD Psychiatrist to ANSWER your questions!
Watch your email for details.
What would YOU like to ask a psychiatrist?
Please COMMENT here in the Blog, and share this post!