How paralysis of indecision leads to clutter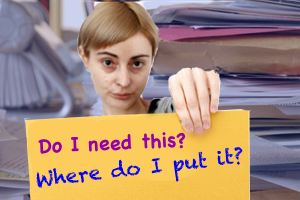 How many times have you started plowing through a pile of clutter, only to find yourself bogged down over decisions to be made on every piece of paper or item?
Do I need this?
Do I already have another one?
Where should I put it?
How will I remember I have it?
How will I know where to find it again?
And what about that old rule to "only touch everything once?"  If you're only allowed to touch it once, that means you have to make the right decision the first time.   Which just compounds the agony.
No wonder you don't have the patience to get through clutter.  Once it reaches the point of being visually overwhelming, you are not only faced with the question of where to start, but you also know it will take forever just to get through a pile!
Since I am admittedly a serial clutterer, one of the first training products I created was an ADD-friendly process for getting through clutter.   I developed it by listening to the tendencies of my readers and ADHD coaching clients, and designing strategies that dealt with those tendencies.
Here are MY rules for developing a clutter-clearing strategy.
The process had to:
1.  Not be boring
2.  Be fast-paced and do-able in short bursts
3.  Show an obvious and visible improvement right away
4.  Keep you from drifting away and doing something else
5.  Cut out the possibility of overwhelm
Most importantly, in order to satisfy all of those requirements, it had to
6.  Eliminate almost all of the need for decision-making while you work.
I wrote an e-book guide, "Clear Clutter Now in 6 Simple Steps," that lays out the whole process in detail.  But reading is a solitary activity, and focusing on getting through your stuff is usually easier with someone else there.  That's one of those weird phenomenons of ADD-ADHD, our need for a "body double" to stay on task.
"Clear Clutter" became my most popular online program!
Last year, I decided to lay out the strategy of the Clear Clutter Guide in a live "WORK IT" online program that provided that final benefit — having it feel like someone else was clearing the clutter with you.  To my surprise, it turned out to be the most popular event I've had in 13 years!
So I am now giving it again, this THURSDAY, August 7, 2014.
Special Sale Price – $19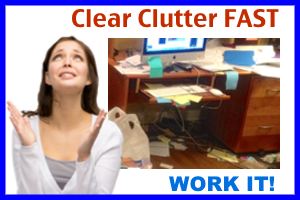 Live interactive webinar, Q&A, chance to WORK the strategy on your own clutter as you learn it, and complete notes.  Plus, the webinar recording will be available to you to listen to in future clutter-clearing sessions.
This is one of the few training programs online where multi-tasking is actually encouraged!    I'll be your body-double while you work, as I answer your questions in real time.
Come prepared to work on any kind of clutter, from messy desk papers to cleaning out the garage.   Click here for details and to register for the program.
What kind of clutter do you need to tackle most urgently right now?
Please SHARE and COMMENT below!