Not for students only!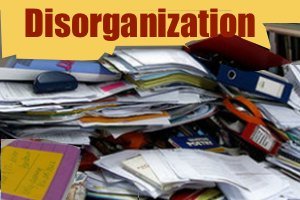 As we count down to September, I've been having more coaching conversations with parents concerned about their ADD / ADHD kids returning to college.
It seems the summer before sophomore year is when parents are most likely to send out distress signals.   The son or daughter may have gotten through their freshman year with difficulty, or perhaps had to drop courses. By the second year, it's clear the student needs help and is more willing to accept it.
ADHD students' struggles seem to fall into 4 buckets that I call the "4 D's:"
1. DISORGANIZATION
2. DENIAL
3. DISTRACTION
4. DERAILMENT
Not unsurprisingly, if left unchecked, the same challenges that plague a student with ADD / ADHD will persist into adulthood.   Just replace the words professor, friends and roommate for boss, colleagues and spouse.
So the next 4 posts will address the 4 D's, which are NOT for students only!
DISORGANIZATION
College students who are away from home for the first time are faced with the need to be organized in a number of ways:
Organize their space and stuff
Organize papers and information
Maintain a calendar for classes, exams and assignments
Break down and schedule homework and projects to get them done
Each of these require different organization skills and habits that may not have been necessary before, when parents looked out for the student, and high school teachers were more accommodating.
When it comes to physical disorganization, there are the typically ADD kinds of reasons for clutter: impatience with putting things away, fear of "out of sight, out of mind," or overwhelm at dealing with one's own mess.   It becomes a real problem when papers or assignments are lost, or notes taken in class can't be found when it's time to study for an exam.  Students have to become systematic about where they keep things for each class, and develop a ritual of putting what they need in their bag or backpack the night before.
Entering things in a calendar, and looking at the calendar daily, has to become a habit. That requires a commitment to doing it regularly.   Problems can arise when you don't enter all your classes, appointments, assignment due dates and personal obligations in one place.
You need to be able to view the whole week at a glance in order to plan it out. Without seeing a whole week – or even a month or semester – it's difficult to plan out how you'll get all the assignments and studying done.   You have to SEE the time that you actually have available.
There are additional skills required for accurate scheduling.
First, the ability to break out and identify all the steps required to complete an assignments.   For example, a typical college paper requires reading, research, note-taking, planning out the paper, writing it, editing it and proof-reading. That's 7 steps, yet most people only consider the Writing part.
Second, an accurate sense of how long it actually will take you to do each of those steps.  ADHD students can't count on looking at their friends or roommate to gauge how long to spend on schoolwork. They may have to take extra time for certain steps, and require more breaks when their focus lags.    And if you aren't organized, figure extra time in for having to search for things!
Sound overwhelming?   It can be, since no one actually teaches this to students before they leave home.
Why isn't this stuff taught in high school?
It's tough for any teenager to learn all of this on their own, but non-ADHD people are more likely to pick it up with experience. ADD / ADHD kids are far less likely to learn from their own experience. Instead they struggle, feel ashamed and "stupid," and never really learn how to make school less of a struggle.
You may have felt this way as a student, and perhaps you still find time management and organization to be an impossible mystery!
There are solutions.
COACHING – Becoming organized is a learnable skill, like any other. As an ADHD Coach, I work with individuals to develop their own best process for becoming organized with space, stuff, time and scheduling.
CLASSES to Download – Here are some classes for ADHD Adults that I've developed over the last 13 years that you can download. Click on each to get the description.
Next post, the second "D" – DENIAL!
Did lack of organization skills affect you as a student? What impact did that have on your performance?
Please SHARE and COMMENT below: