Hyper-focusing in the midst of disaster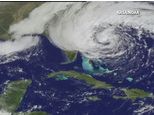 You've probably heard how many people with ADD can focus really well in a crisis, and actually work best with chaos going on around them.  I think I'm proving it to myself today.  I'm in my home office just outside of New York City in Westchester County, NY,  land of enormous falling trees, flooding rivers and flying branches.  The whole metro area has been completely shut down today in anticipation of Hurricane Sandy (otherwise known as "Frankenstorm").  The scene outside my window is really scary, with the howling wind and gigantic tree branches waving around.  I'm prepared for a possible electrical blackout which could last for days.
And I'm under the gun to produce a FREE TRAINING WEBINAR for Thursday, November 1. So I'm really focusing extremely well, knowing that the lights may go out any moment!
My Training Mission: Workplace Productivity that flows with your ADD / ADHD
My mission this year has been to produce training that provides you — not just solutions and strategies for workplace productivity challenges — but a real understanding of you can personally tailor a strategy to work with your own particular ADD / ADHD traits.  Because without understanding how or why a solution may or not work for you, it's just going to be random hit or miss.  And that can get really discouraging when you want to solve a problem like procrastination, lateness or poor follow-through.
My ADD Workplace Challenges Survey last January showed that staying on task was one of the top challenges my ADHD readers struggled with at work.   So I started off this season's ADD productivity training with a FREE VIDEO on "Staying on Task" that you can see right now.   That will be followed by a FREE LIVE WEBINAR  this Thursday, November 1.
Click here to access this free training, to start your productivity engine!
Now, about that Hurricane…  I think I'd better duck under the desk right now.  STAY SAFE!