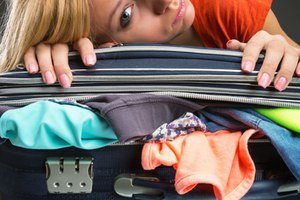 Two tools to make packing easy!

How many times have you planned a trip and swore you'd get your packing done in advance… yet ended up frantically stuffing half your closet into a suitcase at the last minute?
The truth is, when you live with ADHD, packing a suitcase can cause a serious case of anxiety. You need to think about what you're going to do on your trip, what you'll want to wear, what kind of weather… so many decisions can be overwhelming!
That anxiety and overwhelm often cause you to procrastinate. So when your departure day arrives you end up frantically throwing things into your suitcase, only to discover upon arrival that you've left a critical item at home.
Recently Roberta, one of my private ADHD coaching clients, mentioned that she was driving to Florida for the weekend for her niece's graduation. "And of course I'll be up all night packing," she said. "So I'll be a nervous wreck by the time we leave."
Roberta admitted that planning ahead had never worked for her. Her description of her previous attempts to organize her suitcase sounded like an ADD nightmare.
Packing for a weekend trip doesn't have to be stressful and time consuming. I showed Roberta a quick mind-map technique to plot out what she needed to pack , so all she needed to do was grab the items from her closet.
As a result, Roberta reported that packing was easy, and she left for her trip calmly — and on time — for the first time in her life!
Creating a Packing Mind-Map will help anyone with ADD / ADHD every time they plan for a trip.
How the Packing Mind-Map Works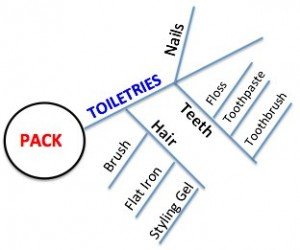 You can sketch out this mind-map on a piece of paper by simply following your own thoughts. Your diagram should include branches with twigs coming out of the center.
• Each branch is labeled with a major category of items.
• The twigs that come out from each branch are named for the items that fall in that category.
• You might include smaller twigs to represent detail.
Some of your category branches, such as "Toiletries," could be the same every time you pack.  I've shown a partial example.
Other branches might be labeled with categories specific to a particular trip. For example, you might label some of your branches to represent the different activities you need clothes for, such as "Friday Night Dinner" and "Sunday Brunch/Beach Walk."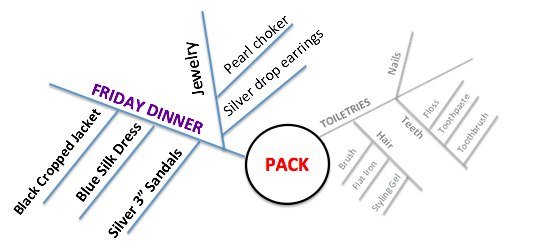 Don't worry about the order. Just create branches and twigs to follow your thoughts around the map.
You can whip up a Packing Mind-Map in under 15 minutes. Then, you can use it as a checklist as you pack your suitcase to ensure you take everything you need.
TIPS:
• To pack light, look for opportunities to use the same item of clothing for more than one event.
• Don't forget to add accessories like shoes, socks, belts, scarves and underwear!
Packing Check List to Download
To help you eliminate packing procrastination and last minute decision-making, I've created a free Packing Check List to download and use every time you pack. Click here to get it now, and let me know if you get better results.
You don't need to be ADD to dread packing!  These tools will make packing easy and stress-free for anyone.
To help a friend, please SHARE!