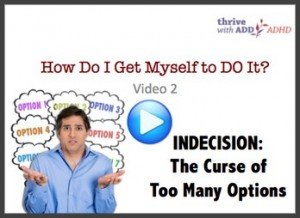 When too much to do leads to doing nothing
VIDEO 2 in SERIES: "How Do I Get Myself to DO It?"
I used to think there was nothing better than an entire Saturday with no plans, no obligations, and nowhere I had to be.  I reveled in the thought of being able to choose from lots of options.
I could get some work done without interruption, …or work on art projects as long as I wanted,… or finish painting that old cabinet … or take my time organizing the office…
Endless possibilities — how great was that!  Well, actually it wasn't so great.
Because with lots of options and open time, I was most likely to do NOTHING!
It turns out that too many options for people with ADD / ADHD can be paralyzing.  And when those options all have to do with work or commitments, the indecision of what to choose can become a stressful source of anxiety.
Click here for VIDEO 2:  "Indecision: The Curse of Too Many Options"

Video 3 coming up next!

When did last have so much to do that you did nothing?

Please SHARE and COMMENT below: