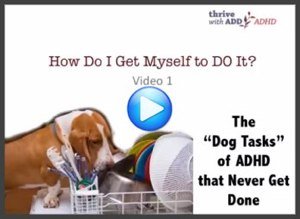 What motivates you to procrastinate?
Series of Short Videos for Adult ADHD
Chances are, if you're an adult with ADD / ADHD, you've been faced with a task or project that you just can't seem to get going on.  And you say to yourself:  "Why can't I get myself to DO it??"
I've created a series of free short videos to help you address that question.
The first video is about what I call "DOG TASKS."  They're the kinds of boring everyday tasks that people with ADD / ADHD tend to have the most problems with.  The kinds of tasks that actually motivate you to procrastinate.
They don't actually have anything to do with dogs!  But see for yourself.   Click here for VIDEO 1:  "The Dog Tasks of ADHD that Never Get Done"
Want to go deeper on learning how to get yourself to do … whatever you need to do?

See the next video in the series.
What DOG TASKS give you the most trouble in your day-to-day life?

Please SHARE and COMMENT below: