Who just drove your brain into the ditch?
If much of the time that you started out in your car, you ended up stuck in a ditch, you would want to know what kind of driver had caused that to happen, right?
I wanted a way for ADD / ADHD Adults to quickly identify what seemed to derail them in different situations. So I asked you recently to take a 2-QUESTION SURVEY called "Who Drives Your ADHD Brain?"
In the survey, you were to imagine your brain as a car, with a team of quirky characters as drivers.   Your tasks and projects were destinations, with a goal of getting there by a deadline.
The first question asked how you reached your destination most of the time.
Only 14% usually got there on time, meaning they completed tasks on deadline without chaos and drama.
That meant everyone else did not!
52% barely made it, usually with a few dents
30% usually missed the deadline and got there late
4% never made it
In getting things done, 76% of ADHD respondents, are stressed out or failing most of the time!   This is a pretty dicey state of affairs, but the only way to improve is to know what is causing the problem.
So, which of your quirky drivers tended to take the wheel of your car (your brain) most often?
Was it Disorganized Derek, who forgets the address and leaves his drivers license at home?
Or Emotional Emma, who has a meltdown at the thought of calling for directions?
Or Impatient Iggy, who gets pulled over for speeding?
The results were a bit surprising! (Click Here for the Survey Results Report.)
The main ADD / ADHD driver was "Overwhelmed Oscar."  When faced with too many places to go, he pulls over and turns to another activity altogether. So it makes sense why he doesn't get places on time.
What I found surprising was the fact that Overwhelm was listed as a primary driver by 70% of the respondents – FAR more than the next highest option!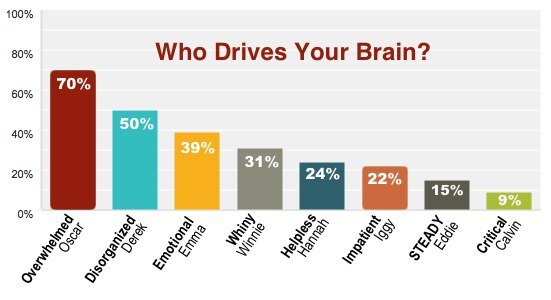 Here were the exact figures:  (Click Here for the full Survey Report)
70%     OVERWHELMED OSCAR – Shuts down when there's too much
50%     DISORGANIZED DEREK – Misplaces the directions
39%     EMOTIONAL EMMA – Gets derailed by shame or fear
31%     WHINY WINNIE – Whines, "I don't feel like it"
24%     HELPLESS HANNAH – Wrings her hands and does nothing
22%     IMPATIENT IGGY – Cuts corners
15%     STEADY EDDIE – Drives straight to the destination
9%     CRITICAL CALVIN – Blames, criticizes, creates doubt and paralysis
In February 2012, I surveyed ADD / ADHD people to ask what kept them from getting started in the workplace.   The results then showed Overwhelm in 3rd place, with 42% choosing it as one of their top problems.
Are we that much more overwhelmed now than we were three years ago? If so, why? And what can be done about it?
During my 14 years of ADHD Coaching, I've learned that a lot of overwhelm comes about because of disorganization.   Much disorganization is a result of impatience. Impatience goes hand in hand with not feeling like doing basic maintenance such as putting things away where you can find them.
In other words, in order to really help Overwhelmed Oscar, you may also need to deal with Disorganized Derek, Impatient Iggy and Whiny Winnie!
Does your feeling of overwhelm more likely to
create

a problem, or does another problem create your overwhelm?
What does it feel like for you?   Please comment!