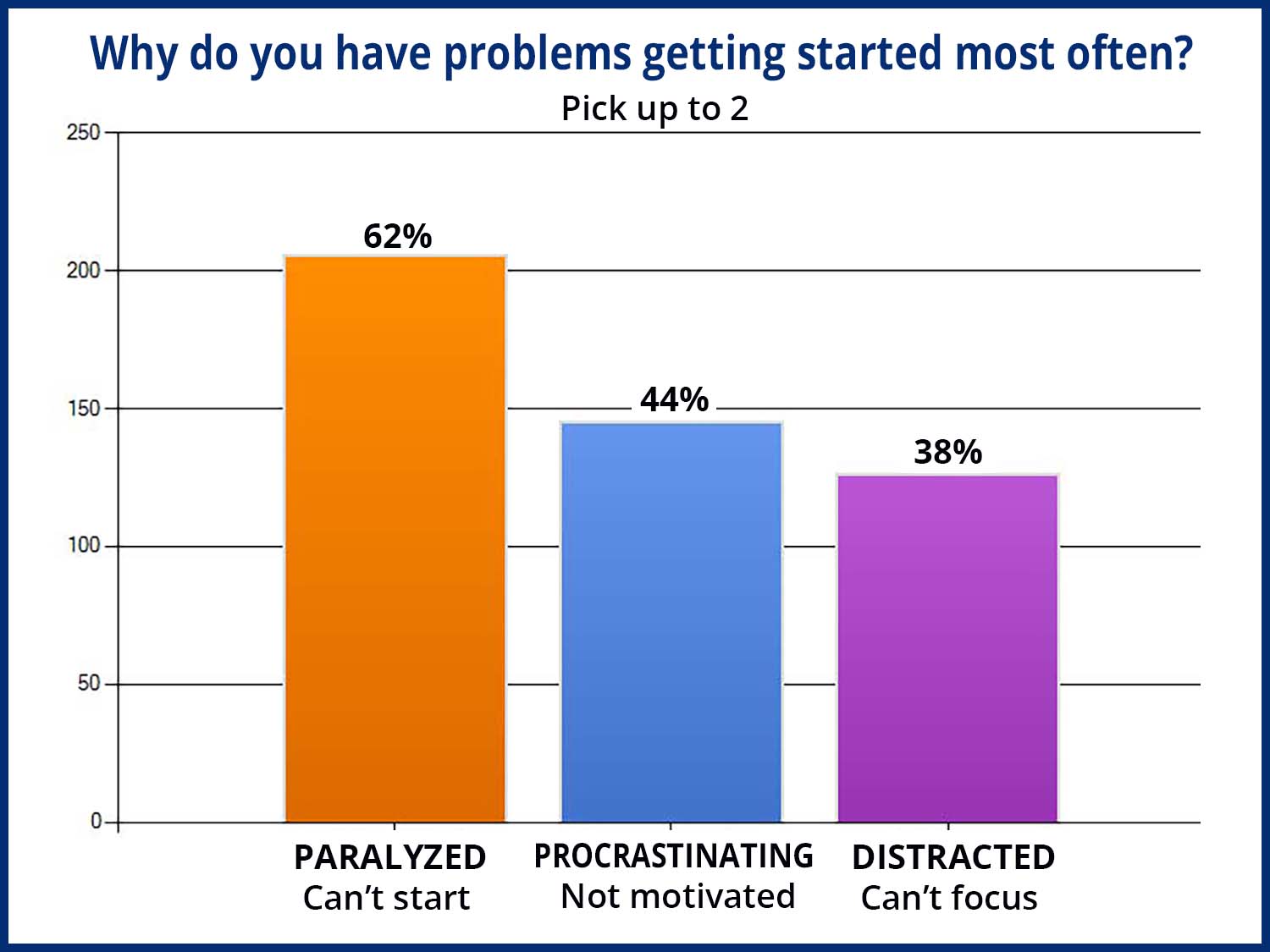 We're being labeled with the wrong stereotype!
If you ask anyone what they think the biggest problem ADD / ADHD Adults have, they'll probably say "procrastination."  This answer is likely to come from people with ADD themselves, as well as those who live or work with them.
Once I began coaching and training ADD Adults, I came to realize that people use the word "procrastinate" to describe any kind of not starting, without distinguishing whether they were avoiding starting because they didn't WANT to, or whether they actually weren't ABLE to. It's long been my belief that the majority of  ADD / ADHD "procrastination" — especially in the workplace — was actually due to an individual feeling STUCK, mentally unable to begin.  Their brain was unable to figure out where to start, how to start, what to do, or was simply overwhelmed by how much there was to do. 
The results of my "Getting Started Blues" Survey indicated that I was right!

Results of "Getting Started Blues" Survey
The survey began by asking ADD / ADHD participants to distinguish between Procrastination, Distraction and Mental Paralysis in their difficulties getting started.   Each phrase was clarified for its specific meaning. Respondents were allowed to choose two out of three as their top challenges.
Mental Paralysis – paralyzed and

unable to start

– 62%
Procrastination – not starting due to

boredom

or

lack of motivation

– 44%
Distraction – tried to start but got

distracted or interrupted

– 38%
Mental Paralysis was picked almost 30% MORE than Procrastination as a top problem in getting started! In fact, once "Procrastination" was strictly defined as only pertaining to boredom and motivation-deficit, fewer than 50% of responders selected it as a major problem.
This was important to me, because it identified the direction and emphasis in my training program.

Ability vs Attitude
I think the main significance of these results is the implication they have regarding Attention Deficit Disorder, and the stereotypes society has about us. As long as we could be seen as primarily having a "procrastination" problem, it could be argued that ADD was simply an excuse for laziness, of lacking the discipline to get ourselves to do things that weren't fun or interesting.
"Mental Paralysis" as the most-chosen response identifies an issue with the executive functioning of the brain as the primary difficulty. The exact nature of the difficulty varied by individual and was further defined in subsequent questions. But it removed the lack of getting started from the realms of "poor attitude" and "laziness" of which people with ADD / ADHD have long been accused.
What makes us the most stuck or paralyzed?
I broke down the possible reasons for paralysis into 8 primary answers. Not surprisingly, "Overwhelm" was the most-chosen reason people stayed stuck, at 68%. Other reasons having to do with brain functioning  on the "how to" front were:
Inability to prioritize – 38%
Don't know where / how to start – 33%
Inability to plan out the project – 22%
Anxiety or emotion-related paralyzing factors arose from:
fear of the outcome – 25%
difficulty working with ambiguity when aspects of the project were unclear – 18%
shame creating avoidance – 15%
Disorganization played a significant role in keeping people from starting.  When people couldn't start because they had to do another step first, for 47%, the first step was to find or organize what was needed.
Perfectionism was identified by some as contributing to fear of starting, or belief that no effort could be good enough.

Would you like training on how to break the impasse when you're feeling paralyzed?
Learn how to get started, no matter what's stopping you
Are you surprised by these results?
Please comment below.