What the results really say about ADHD roadblocks
Every few years, I survey my adult ADD / ADHD readers to ask them what their biggest challenges are in getting started.  I find it very interesting to see how the results have changed over time.
I ran my first survey in 2012.  At that time, the primary problem for ADD adults was thought to be procrastination.  But I believed more people couldn't start because they were mentally paralyzed – unable to start – rather than simply unwilling.
It turned out I was right.  And I've been coaching and training people with traits of ADD / ADHD on many different kinds of mental paralysis ever since.
By 2016, the biggest buzzword was "overwhelm" rather than procrastination.  It seemed everyone claimed to be overwhelmed wherever they turned.  My "Procrastination Survey" that year showed overwhelm as the top contender for keeping people from starting things, followed by distraction issues and an inability to plan.
This month, December 2018, I ran the "Can't Get Started Blues" Survey.  Respondents were asked to check all of the options they considered to be BIG PROBLEMS in getting started.  Overwhelm was still the overwhelming culprit, but problems with decisions or prioritizing gained second place.  Procrastination ("unmotivated" to start) popped up as third.  Disorganization and inability to plan shared fourth place.
Here are the full results: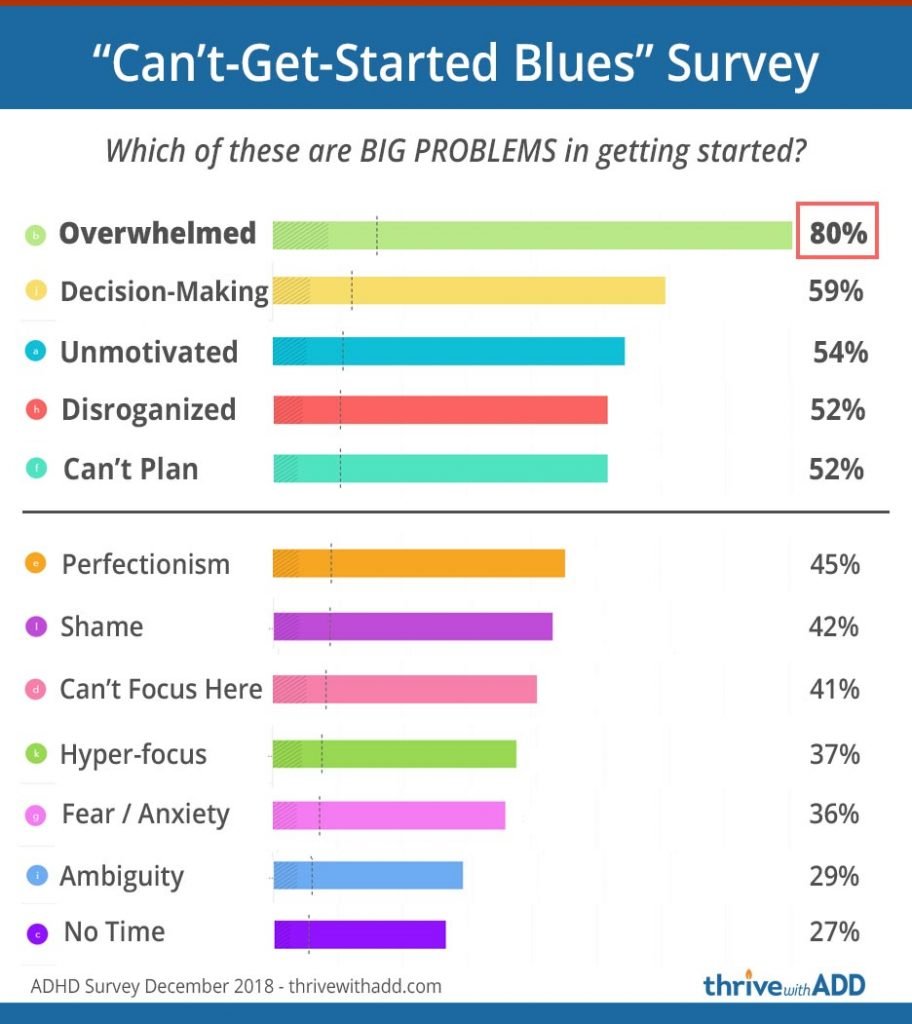 What do the results mean?

In its purest sense, the word "overwhelmed" refers to someone having too much of something.  And that may be the case for many people, especially when juggling work, family, household and other obligations.
But people also use the word to describe the way they feel, rather than purely as a reflection of the reality of their lives.
Because overwhelm was cited as so significantly larger a problem than everything else, I believe many ADD / ADHD respondents felt overwhelmed as a result of a number of other challenges.
When they felt paralyzed at having to decide what to work on first, they felt overwhelmed.
When disorganization kept them from finding what they needed, or in ordering their thoughts, they felt overwhelmed.
When they couldn't plan how to proceed in a project, or how to juggle multiple responsibilities, they felt overwhelmed.
In cases like this, overwhelm is really a symptom, an indication of a different problem that triggered the brain into feeling flooded or frozen.
The implications for you
If overwhelm isn't the underlying problem, but merely the knee-jerk response, that means the way to stop being paralyzed by overwhelm is to address the challenge that triggered it. 
The solution may require learning to organize, to prioritize, or to plan.  Once you're confident you have those skills, you gain control of your situation and no longer have to feel helpless and overwhelmed.
Other common paralyzing roadblocks are emotions such as shame or fear that keep you from taking the next step.  Or you might be having difficulty focusing your mind on the project (pretty common for us with ADHD!)
Next time you feel stuck, take the word "overwhelm" off the table.  Instead, ask yourself WHY you're experiencing that feeling, or WHAT exactly is stopping you.  That will get you closer to the real issue. 
Then you'll know what kinds of solutions you need, rather than simply searching for an answer to overwhelm.
CLICK HERE for an Info-graphic to identify your roadblocks,
and a step-by-step "ADHD Know Yourself" strategy.
Is Overwhelm the real problem that paralyzes you, or is feeling overwhelmed an automatic response to a different problem?
\
Please comment and share!