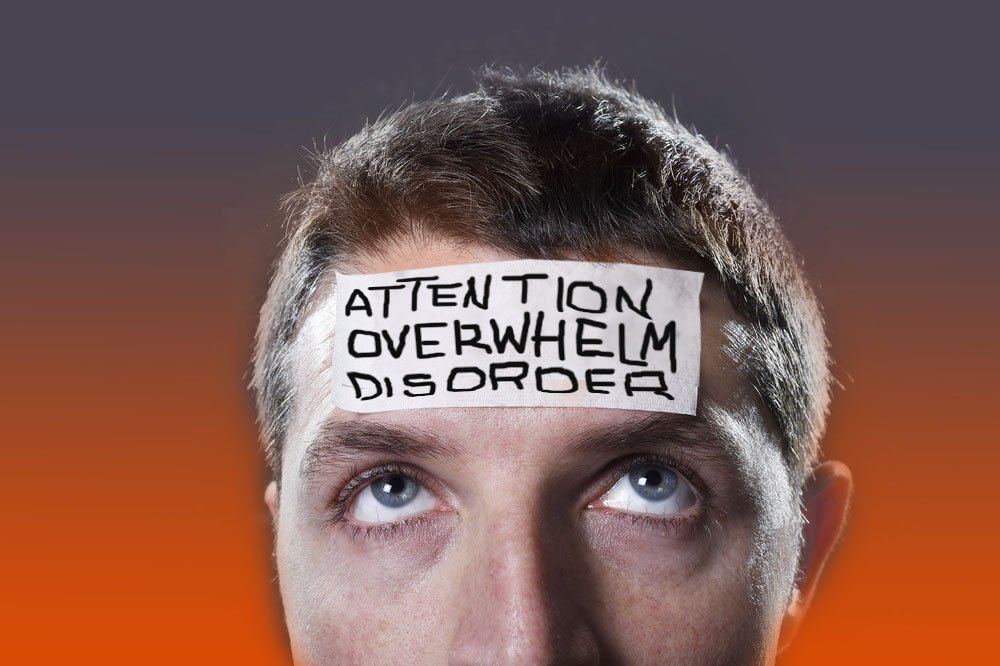 Overwhelm keeps 88% of ADD / ADHD Adults from getting started, according to "The Procrastination Survey."
When I decided to put out my second survey on ADHD Procrastination in four years, I honestly didn't expect to see much change from the "Getting Started Blues" Survey I had sent to my readers in 2012.
The most important finding at that time was a validation of my theory that far more adults with ADD / ADHD were stuck in mental paralysis than procrastination.  Rather than having a problem with attitude and motivation, they were more often actually unable to start when they wanted to.
This month, four years later, I sent out "The Procrastination Survey."  It was shorter, and named the many different reasons I knew ADD / ADHD adults had trouble starting.  I asked people to simply identify which ­­­­­of these presented a "BIG PROBLEM" for them.
Once again, there were far more people stymied by mental paralysis types of roadblocks than procrastination (which would just be "unmotivated to start" or "don't feel like it.")
But I saw a different trend this time in the nature of the paralysis.
The amount of Overwhelm was — overwhelming!  Issues related to distraction and focus played a much higher role than before in keeping people stuck.  And difficulty in planning came in third place, showing up much higher than before.
SURVEY RESULTS
Here are the results of The Procrastination Survey, in descending order.  The percentage refers to the percent of ADD / ADHD survey responders who considered that challenge to be a "BIG PROBLEM" in getting started.

SURVEY: What stops you from getting started?
Overwhelm – 88%
Focus / Processing (hyper-focus & distraction) – 82%
Planning – 78%
Decision Making / Prioritizing- 69%
Disorganization – 67%
Unmotivated (procrastination) – 66%
Perfectionism – 64%
Shame- 55%
Fear / Anxiety – 51%
Time Management – 39%
Ambiguity / Lack of clarity – 31%
HYPER-FOCUS & DISTRACTION
The real surprise for me was the extent to which problems of focusing and mental processing had overtaken procrastination.   The challenges I'd listed that had addressed this problem included:
Hyper-focus – not being able to pull away from what you were doing
Distraction in the environment – too quiet or too noisy to concentrate
Mental processing on the task –needing to receive the information in a different way (visual, auditory or hands-on)
These issues come down to a person being unable to focus their brain to start or stick with the activity.
I believe much of the change is a result of the increased amount of tech-related stimulation available at our fingertips.  Since my initial survey in 2012, smartphone ownership in the U.S. has almost doubled.  The distracting elements of social media, chat apps,  photo apps, games, streaming videos, and countless other enticements in our mobile devices has created a shortened attention span that has been reported on and studied quite a bit in the media.
The drain on productivity has been a problem for everyone, not only those with ADD.  But the distraction problem has become exponentially heightened in the ADD / ADHD population. 
Not only are we more easily distracted to begin with, but our hyper-focus mechanism locks us in to these non-essential activities and makes it very difficult to simply pull out and turn to the task or project we had intended to do.
INABILITY to PLAN
Difficulty in Planning had risen dramatically in the ranks of roadblocks to getting started.  In 2012, only 22% had considered inability to plan as one of their top 3 issues.  But this time it was named as a real problem by 78%.
I doubt that people have become innately less able to plan than before.  Rather, I think that it's become more obvious to people that their inability to plan is keeping them down.
When you spend more time in distracted time-wasting activity, you have fewer hours left to be productive.  So it's even more important that you know how to use that time wisely. 
If you don't know how to break down that project, or figure out where to start, your brain will likely go straight to overwhelm!  Which might send you right back to avoidance / distraction.
I'll develop training this month on ways to break this cycle of Overwhelm – Distraction – Inability to Plan.
In the meantime…
I received so many insightful comments in the survey, with people sharing their personal roadblocks that are especially valuable to me, as an ADHD Coach and program developer.  It's important to anyone reading about these difficulties that you realize you aren't alone in your struggle.
What overwhelms you, what stops you… and what helps pull you out?

Please COMMENT and SHARE!