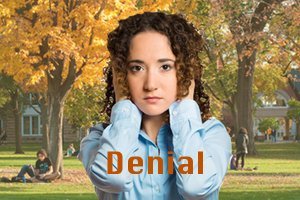 Don't succumb to Denial
This month I'm writing about the "4 D's" that commonly trip up ADD / ADHD College students (and ADHD Adults of all ages!)  The last post was about Disorganization.  The second "D" is DENIAL.
There are several areas where I often hear of denial getting a student into trouble in college.   They are:
Avoiding seeking help or advice when struggling
Ignoring that his / her study needs are different than those of friends
Expecting tolerance for assignments turned in late
Neglecting to determine deadlines, school policies and professor's expectations
The insidious thing about Denial is that it gets to be a habit, and turns into chronic Avoidance later in life.   That's why this is NOT for students only!

DENIAL – Advice to students of all ages
Get help when you need it.
Most students away from home for the first time have never developed good study habits or time management skills on their own.  ADD students are less likely to do so on their own, but want to believe they can figure it out themselves.    They may not recognize that they're drowning or overwhelmed until it's too late to salvage the class.   They may also be ashamed to admit they need help, or embarrassed about their ADHD.
Sometimes the problem is actually that the professor didn't communicate the assignment clearly, but the student assumes that it's their own fault that they didn't understand what was required.
If you don't understand something, ask!  If you need help or accommodations, tell someone who can direct you to the appropriate resource.
 Don't copy someone else's study strategy.
ADHD people want to look "normal" and study the way they think their friends or roommates do.   The problem is, an individual ADHD student's  best way of studying may be very different.  You may require a not-so-quiet room to focus, and a timer to keep you on track.  You may need more time to read and comprehend the material.    I coached a student who realized she needed to pace back in forth and see math formulas written large on the wall; she couldn't memorize them while sitting.
What other students do may not be relevant to you.  Honor the way that you study best.
Respect due dates for assignments; they are real.
In high school, the brilliant student who turned in his papers late may have gotten away with it.   In college, students are expected to submit assignments when they're due.     Don't delay in getting help learning how to manage your time and plan out your study and projects.
Find out important dates, deadlines and policies.
A student struggling with the course load may reach a point where they've fallen so far behind that it is better to drop the class.   It's important to know the school policy and deadline for being able to drop without getting a FAIL on your transcript.   Yet many ADHD students become ostrich-like and pretend that they can simply ignore the situation.  They stop going to class, never admit to their parents that they're failing, and end up with a permanent F which could easily have been avoided.
Some classes may count class participation and attendance as part of  the grade.  If this is the case, no one will come after you if you don't show up.  You'll simply see the consequence at grade time.
Get the facts!  Avoiding finding out for fear of admitting failure is usually the worst action.
Next post, read about the third "D" – DISTRACTION.
What have you lost out on as a result of denial, when you avoided finding out the facts?
Please SHARE and COMMENT below: